LimoBus History "San Diego Limobuses"
In 1987 Nightlife Express Inc. was formed. Located in (Linda Vista) a suburb of San Diego in the back of a very small rental and garage. Our original Shuttle bus concept failed, we attempted to establish a night time shuttle bus service that would visit bars, clubs and restaurants in San Diego's major areas. By the late 80's there were actually local concentration of clubs, restaurants and entertainment known as Pacific Beach, La Jolla, Mission Valley and Downtown San Diego was just beginning with Croce's Jazz Club and Sybil's Nightclub, now Aubergine, being the only 2 Real players. Things have changed quite a bit, now you have to include Hillcrest and San Diego's Gaslamp Quarter and Pacific Beach rival and even surpass just about any concentrated area of bars, restaurants and clubs in the country. However nightlife in Mission Valley and La Jolla have mostly disappeared. Our continuous route also included the major hotels and SDSU.
Our dream was to help minimize and even eliminate drinking and driving. Soon after we had begun we realized that we were facing a huge challenge, as MADD turned us down for and endorsement, operating costs were sky high with fuel, maintenance wear and even the cost of advertising our name "San Diego Limobuses" alone would sink us. We were facing bankruptcy in just a matter of months. With very few passengers on board, the numbers just weren't there.
So now what? What could we do with this Airport shutle bus? Our original bar shuttle bus service plan was out the window and we had no back up plan. The shuttle bus was a slightly used Airport shuttle bus from dollar rent a car that we purchased for 15 thousand; with taxes and new paint and upholstery, we had over 20 grand invested and at the time obviously this was quite a bit of money to walk away from.
The one thing this Airport shuttle bus had that was unique at the time was the perimeter U shape seating. A charter bus company in San Diego at the time were row seating. When a group of people wanted to do a party bus, they just threw an ice chest full of drinks and brought their own music box system. After many discussions as to what we would do with our Airport shuttle bus, Chris Forcier commented "The answer is right in front of us." We should become a SD Charter Bus Company. Our unique perimeter style seating makes for a much better party bus. The interior is much nicer vs. our veicles competitors row seatingespecially for corporate charter bus groups. After all our perimeter seating was much more conducive to conversations than a row seating Tour bus. Soon our party buses began to catch on after about a year.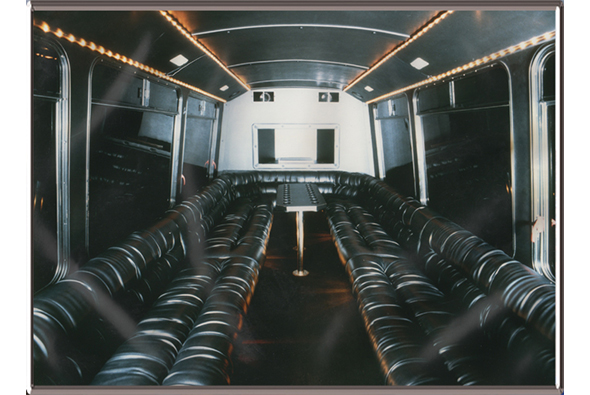 As time passed we found it difficult to compete for the more conservative or day business so our next plan was to upgrade our mini fleet of luxury limousine party buses. We began to upgrade them to the point they had become nearly the luxury of a typical San Diego limousine of the time. It was at this time "We owned the market for Luxury Limousine party buses in San Diego." However it had been nearly 2 years in business and our corporate transportation services and day business was still growing however at too slow of a rate. With most of our vehicles sitting around most of the week. We had built a good name but our partner Chris Forcier pointed out that our problem was the name itself, Nitelife Express Inc. The name; A) doesn't say what we do. B) Even if you knew we were a party bus company the name was "too limited" as if we only operated charter buses at night. C) we were also getting confused with a strip club called Nightlife on El Cajon Blvd. and Ohio Street, now called Tens. A name change was eminent so our search had begun. In all of our advertising our "Tag line" (what we are and do) had become more prominent than the name itself. The Tag line had evolved from luxury party buses to party buses with limousine interiors as we attempted to shorten our explanation of what we do our name as we were known had also naturally been evolving to a Limo Party bus. So we asked ourselves exactly what do we have here? We have these vehicles that look like a bus but have limo interiors. We knew this time around that our name had to say it all without any explanation. The name had to be short, and catchy with and easy recall to it. Finally after a million names the answer again was right in front of us, "Mike Forcier said,'" will call ourselves Limobuses… "Paradise Limobuses." We were all set but someone reminded us of the one most important element in marketing that we were forgetting. "Recall" (how easy is it for someone to remember your name) He suggested San Diego Limo bus the only drawback at the time was the order in which it was advertised in the phone book. Well the name was set; next we had to redo our logo we actually started with a different SD Limo Bus logo but Mike Forcier quickly had it changed by an artist from New York. Mike Forcier knew we had to emphasize Limo Bus so we wouldn't be geographically restricted it had to be bold fat and progressive. Stars were a must as we strived to deliver a top Limo Bus service. The San Diego Limo Buses logo had to look cool, hip and classy without being time dated. Our designer from New York hit the nail on the head, "perfect!"
We went down and filed a fictitious dba name 'San Diego Limobuses' with the county of San Diego in 1989 and operated for years under San Diego Limobuses. I remember having to educate people for years as to what a SD limobus was. We actually invented a new type of vehicle for hire service – A new concept and market. Well; just like most inventors and pioneers, we were laughed at a couple of times, however one time really stood out that Mike Forcier can remember. It was when a major bus company salesman came to San Diego to show new shuttle buses. We asked them, Don and Ed Cox at Sunset Bus. "Do you sell these buses as shells (empty)? And he replied for what? We told them we would like to make a Limo bus out of them, and he laughed loudly and said your going to do what? It took several years of expensive marketing and advertising until the public caught on as to what a San Diego Limo bus was and by the time the general public began to understand our vehicle concept, our company name and concept became synonymous with our service that was taking off.
In 1997 we added limousines to our dba from San Diego Limobuses to San Diego Limobuses and Limousines when we purchased two new white limousines built by Classic Limousine, (soon to be called Coastal Limousine Manufacturing now closed).
The corporate and conservative day business was now accepting our perimeter style seating charter bus with the limo interior. By the year 1999, San Diego LimoBuses had reached 18 Limo buses. We were finally gaining market share on traditional row seating and limousine vehicles, but as quick as it started, regular limousine coach manufacturers began to see potential in our services and had begun to build limo coaches as they called them and subsequently transportation service companies in San Diego purchased their buses. Now we were facing competition in our backyard from our own original Limobus idea!
In 2001we started Spectrum Limousines. Every type of SUV Limousine that you could think of from our first class Black Cadillac Escalade Limousine followed by our snow white Escalade Limo. Next we purchased a white Ford Excursion Limousine and then our real party machine the Black H2 Hummer Limousine, a corporate styled Black Limobus, two of the newest model white Limousines and lastly our new white H2 Hummer Limousine that was absolutely a masterpiece limousine; as it was proclaimed the "Best of Las Vegas Show" manufactured by Executive Coach Builders. Oh by the way we were also the first company to take a seat out of the back of these SUV limousines and replaced it with a velvet rope and replaced the back row seat with a J seat and added a curtain with mirrored ceiling for the first VIP ROOM, in a SUV Limousine.
Well you may say that we've made a full circle as we reintroduced our "Nightlife Express Party Bus" to cater to the cheap party bus business in San Diego, it's now called PB Party Bus. Today there are copy cat limousines that are manufacturing Limousine buses all over the world, and now in our backyard party buses are being manufactured. Not only is there a glut of these shady party buses operating in San Diego less than half are operating legally. The bottom line is be careful with your search. You could end up with Mr. Toads wild ride with no licenses, CHP's safety inspections, permits or insurance and if anything catastrophic goes wrong the lawyers can come after you because you booked it! For the record we did not invent party buses or even luxury party buses. However we did invent, create and develop the limo bus market. The name and phrase limo bus with perimeter seating, mirror ceiling and dance pole were all ours. We are the "Original Limo Bus Company."
Our Family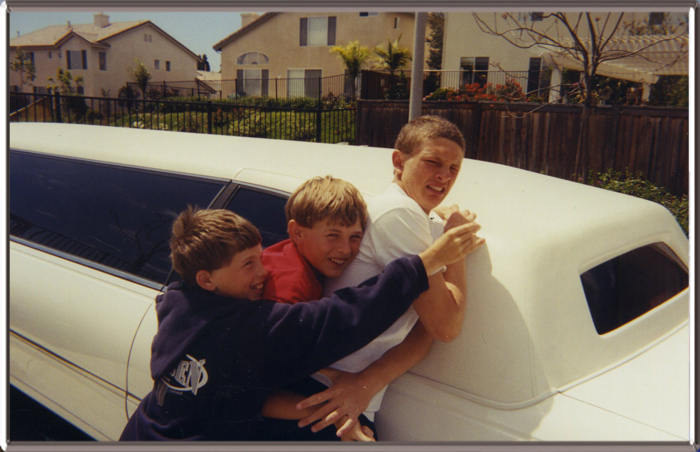 San Diego Limobuses and Spectrum Limousines by the Forcier Family. Michael Forcier and Suzanne Forcier family members include; Chris William Forcier and of course Mike Forcier and Sue Forcier with their three sons from oldest to youngest; Jason Forcier, Christopher Forcier and Robert Tate Forcier. We do have another sister, Trish Forcier, also known as Patricia Hargraves. Trish is employed at Torrey Pines High School.
As many of you are already aware we are a big sports football family of quarterbacks, with that being said we support all High School football in Southern California. Cheap Transportation service discount rentals on our San Diego Charter buses that includes; Limousine, Limo Buses, Shuttle Buses, Party Bus, Limo rentals, Tour bus and San Diego Coach Charter services.
Our Limousine Companies "Spectrum" has one of the most elegant fleets of San Diego limos, Our PB Partybus also know as the Cheap Party Bus. Lastly everything you could possibly need including; affordable Limousine prices When you call San Diego Limobuses and Spectrum Limousines.